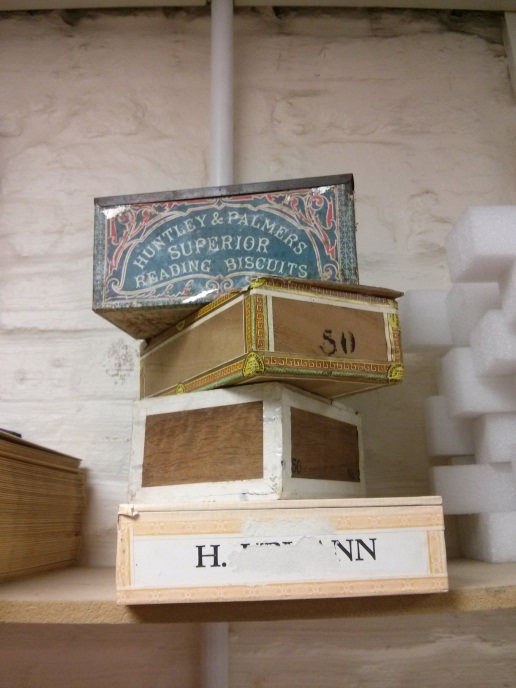 Boxing clever
To reduce the amount of waste the Museum produces we reuse unwanted boxes from other departments to pack and protect orders.
Identifying the specimen
We find boxes are in unexpected places. Whether it's container used for lollipops, a tub previously filled with gemstones or a sturdy box from something we received in the post, we search every corner of the Museum to find the perfect packaging for your order.
Collecting the sample
Each morning before orders are packed we head out in search of unwanted cardboard boxes from the Museum's laboratories, offices and cafés. One team's waste is another's treasure.
We flatten the boxes and stack them next to our packing table. For some products, we use tough, recyclable 100% paper padded bags filled with shredded paper to cushion products. You can re use or recycle them at home.
A new lease of life
A growth in online shopping means an increase in the amount of packaging material that we all receive.
So here are some top tips for how you can reuse packaging materials to reduce environmental impact. Cardboard boxes
reuse as gift boxes
keep larger boxes for moving home or storing goods
give to your local school for craft projects
use for animal bedding
mulch down into compost
Jiffy bags
reuse for postage
tape around outdoor pipes for insulation in the winter
store delicate items such as Christmas decorations
keep drawers organised: store screws, tape and other things together
cut down, fill with compost and use for plants
Packing peanuts
reuse to cushion delicate items such as Christmas decorations
use for drainage in the bottom of a planter
use them to fluff up a fading bean bag
cut into shapes and use as stamps for kids' crafts